Create Fake Magazine Covers with your own picture at MagMyPic.com


Yokoyama Yu also known as Yokoyama Kimitaka..
I saw him for the first time on the show yukan club last december, I think?
He's so serious on the series and when I research him on the net, i've found at that he's a singer in Johnn'ys entertainment, the agency where YamaPi also belongs..Ü
When I'm watching his videos with his groupmates in youtube, I saw how funny man he(Yokoyam) is, and he is so cute on every actions he made.Ü kawaii!!
I hope that I will able to see them someday.
I really like the friendship they have.
Hope that they will be like that forever.Ü
This is one of my favorite picture of Kanjani8.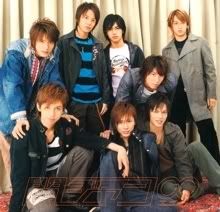 actually, some of them were serious on this picture but at least they were complete.
I'm happy that they have still contact with Uchi, Hope that Uchi will finally comeback on Kanjani8. I'm sure that everyone will be happy when that happens.
Here's another picture of Kanjani8..
love their expressions! LOL.. ;p
summer kLas has finally ended..
weeee!!
i'm so happy..
.. here is some of my pics with my classmates..Ü
i'm the one who is wearing a headband..Ü
well.. I really love taking photos of me, and with my friends.
so there's something that I can look at eventhough i'm not with them anymore..hihi..
Also, so there's some pictures that can show my experience on that day..♥♥
for those who are reading my journal..
I'm sorry if there's some grammatical error..
since this is my first time to make an journal, I really don't know what to say and what to put in here.. but, I hope that you will enjoy my upcoming journals..Ü
well then..have to end this so I can make a new journal..♥
thanks for reading..